Guardian Angels celebrates 100 Years in 2023. Come celebrate with us through the year!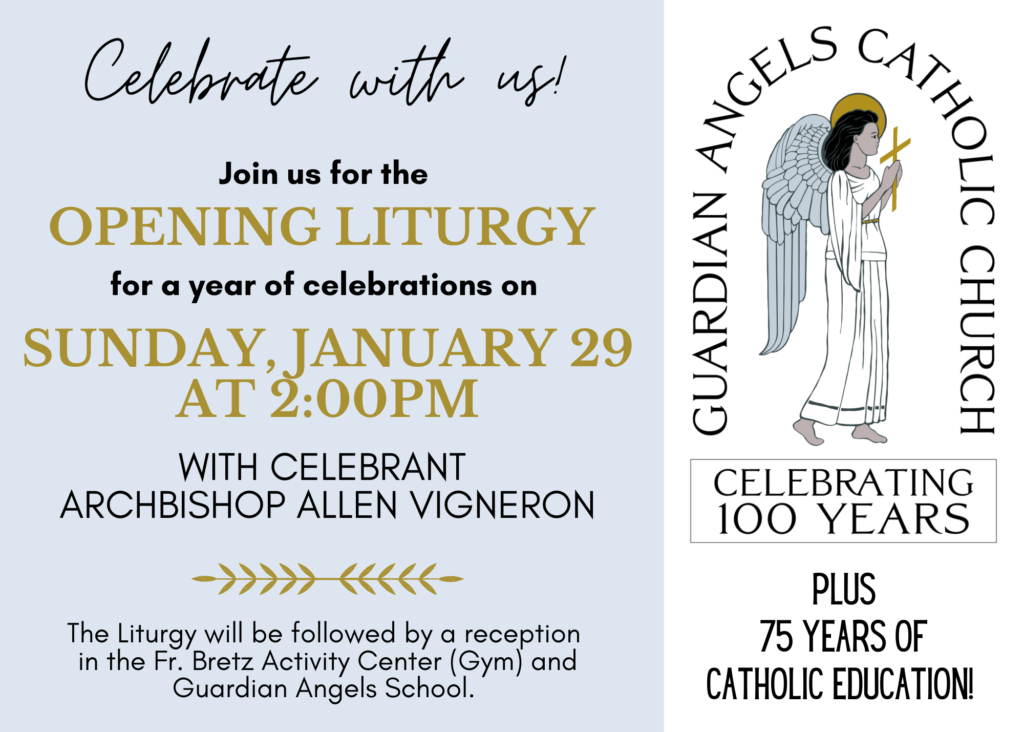 Join us through the year for more as we continue to celebrate 100 years of Catholic parish & school life in Clawson!
February 11, 2023 after the 4:30 pm Mass
Celebrating Marriage on World Marriage Weekend with a "Date Night" that will include a dinner, inspiring speakers regarding marriage, and fun, with a a special invitation to those married at Guardian Angels over the years.
February/March 2023: Lenten Parish Mission
More details to come in the New Year about the opportunities to grow together in faith as a parish community during Lent.
April 15 &16, 2023: Celebrating RCIA
Special prayer and RCIA group picture will be taken after the 11:00am Mass with more celebrating all weekend.
May 28, 2023: Pentecost Renewal
Renewing the gift of the Holy Spirit in all the confirmed and a special invitation to ALL who would like to be confirmed over the past 100 years.
June 10 & 11, 2023: The Feast of Corpus Christi
This day we all are encouraged to celebrate and remember our own First Communions. At the end of the 11:00 am Mass there will be a Eucharist procession including the Guardian Angels First Communion Class of 2023. This will be followed by refreshments.
July 4, 2023 – Clawson Fourth of July Parade
Celebrate community! For the first time in many years Guardian Angels will have a float in the Parade. Join us in decorating a float and walking in the parade!
August 26, 2023 – GA All Class reunion
Guardian Angels Catholic School celebrates 75 years in the same year the church celebrates 100! We are planning a parish and school event on Saturday, August 26 beginning with our 4:30pm Mass. All those who attended Guardian Angels School over the 75 years of its existence are invited. RSVP details coming soon!
September 24, 2023 – Early Parish Feast Day 
Celebrate the Feast Day of Guardian Angels with this beautiful parish community we have built over the last 100 years! More details to come soon!
November 2023 – Volunteer Appreciation
A Thanksgiving Event is being planned to give thanks to all the wonderful volunteers who make Guardian Angels such a great parish to be part of. More information will be coming in the New Year.
December 2023 – New Birth and Baptism
We are planning to renew our faith in Christ and our commitment to living out our baptismal promises. This will include a multitude of people, voices and memories that laid the foundation of Guardian Angels Parish and a newness launching us into the next 100 years.