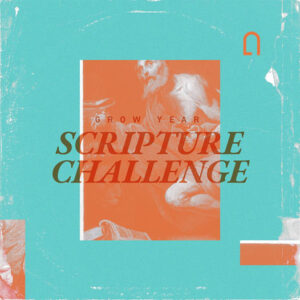 GROW YEAR SCRIPTURE CHALLENGE
"Listening and responding to God's word in the Sacred Scriptures must be at the heart of our efforts to unleash the Gospel. One who is in love desires to know more and more about the beloved. Since all Scripture speaks of Christ, immersing ourselves in the word is a way to deepen our initial encounter and grow in our relationship with him." —UTG Marker 3.2
To grow in our knowledge and love of Scripture (and thereby Christ), the Archdiocese of Detroit has challenged the faithful to make a commitment to read, study, and pray with the Word of God. At Guardian Angels, we encourage you to use this opportunity to also grow in relationship to those in our parish. There are multiple ways to participate, and varied levels of participation based on your interest and availability.
THE BASICS:
Our small groups will consist of between 3 – 5 households (depending on the size of the households), with 1-2 people designated as the small group leader(s) to work in conjunction with the parish staff in coordinating their study.
Commitment levels range from reading and reflecting on the Sunday Gospel weekly, the daily Mass readings, the whole New Testament, or the whole Bible through the year.
Each small group will be asked to meet at least once monthly in whatever format you choose (online or in person).
All small groups will be invited to gather together a couple time throughout the year for prayer and community building.
If you're interested in joining fellow parishioners in a small group setting to grow together and immerse yourself in the words of Scripture together this year, you can sign up right here! We hope you'll join us as we journey into and through the Word this year together as a parish community!
(If you'd rather explore on your own, the AOD has broken it down into 6 different challenges, depending on what you feel you can commit to in the New Year. Join a saintly guild (with different levels of participation) and commit to making 2021 a year to grow closer to Jesus, the Word of God!)
RESOURCES
From Ascension Press: Ascension's Bible in a Year Podcast, hosted by Fr. Mike Schmitz, guides Catholics through the Bible in 365 daily episodes starting January 1st, 2021. Each 20-25 minute episode includes:
two to three scripture readings
a reflection from Fr. Mike Schmitz
and guided prayer to help you hear God's voice in his Word.
Unlike any other Bible podcast, Ascension's Bible in a Year Podcast for Catholics follows a reading plan inspired by the Great Adventure Bible Timeline®  learning system.
From Meg: This plan gets you through the whole Bible in a year (and the Gospels twice), but it goes chronologically through the Old Testament (more or less) with New Testament books and fun books like Ruth and Jonah interspersed throughout to mix things up. It also gives you a chapter of some poetic stuff every day instead of dragging you through Proverbs for 200+ days. This schedule is more user-friendly, more reasonable for those who haven't read the Bible before, and can start any day of the year. So now I'm passing it on to you!
I will warn you: I didn't start with the easy stuff. I can ease you into the Bible by giving (relatively) simple, pleasant stuff first. My approach here wasn't to leave the hard stuff for the end but to put it in an order that made sense.
From the publisher: "This book is for people who want to learn the why, the when, and especially the how of praying with Scripture. McCormick, a Catholic high-school religion teacher, husband, and father of three children, gives very specific advice on how to choose the best Bible for you, how to read it, and how to use it to develop your daily prayer and ongoing relationship with God."
(Expected release date is January 22, 2021, and can be found here.)
Weekly Lectio Divina with Steve Petty
Immerse yourself in the Sunday Gospel each week while Steve leads you through a contemplative prayer experience using Lectio Divina. These mini-podcast episodes will return at the end of January as we celebrate Word of God Sunday.