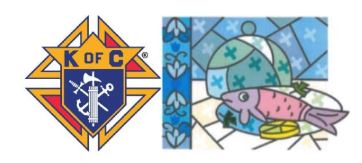 KNIGHTS OF COLUMBUS LENTEN FISH FRY: Every Friday of Lent
February 19, 26; March 5, 12, 19, 26; April 2
4:30pm – 7:00pm Carside at the Hall | No Dine In
K of C Hall | 870 Main St., Clawson
Cost: $10
Meal consists of 3 pieces of fried fish, macaroni and cheese,
vegetable, baked potato, and a brownie.
A limited number of meals will be prepared..
Please call 248-435-0765 (no texts) or email 4188jmlynch@gmail.com to pre-order by 6:00pm on Wednesdays.
Leave your name, number of dinners, time of desired pick up, and phone number.
-OR-
Come on Friday and place your order in the drive thru.
Please enter through the East Elmwood entrance and follow the one-way traffic and instructions. Exit west.
Thank you for helping support our charities!
SUPPORTING OUR SEMINARIANS
Our Knights of Columbus Council 4188 is proud to announce they were able to support two seminarians with $500 scholarships – Deacon John Dudek, studying at the Pope St. John XXIII seminary in Massachusetts and serving here at Guardian Angels, and Karl Finkbeiner studying at Scared Heart Major Seminary in Detroit. Please add these gentlemen to your prayers.
Pictured is Deacon John Dudek accepting the $500 check from Council 4188 Chancellor and Vocations Director Mark Conger and District Deputy John Reeser Sunday before the 9:00 Mass.