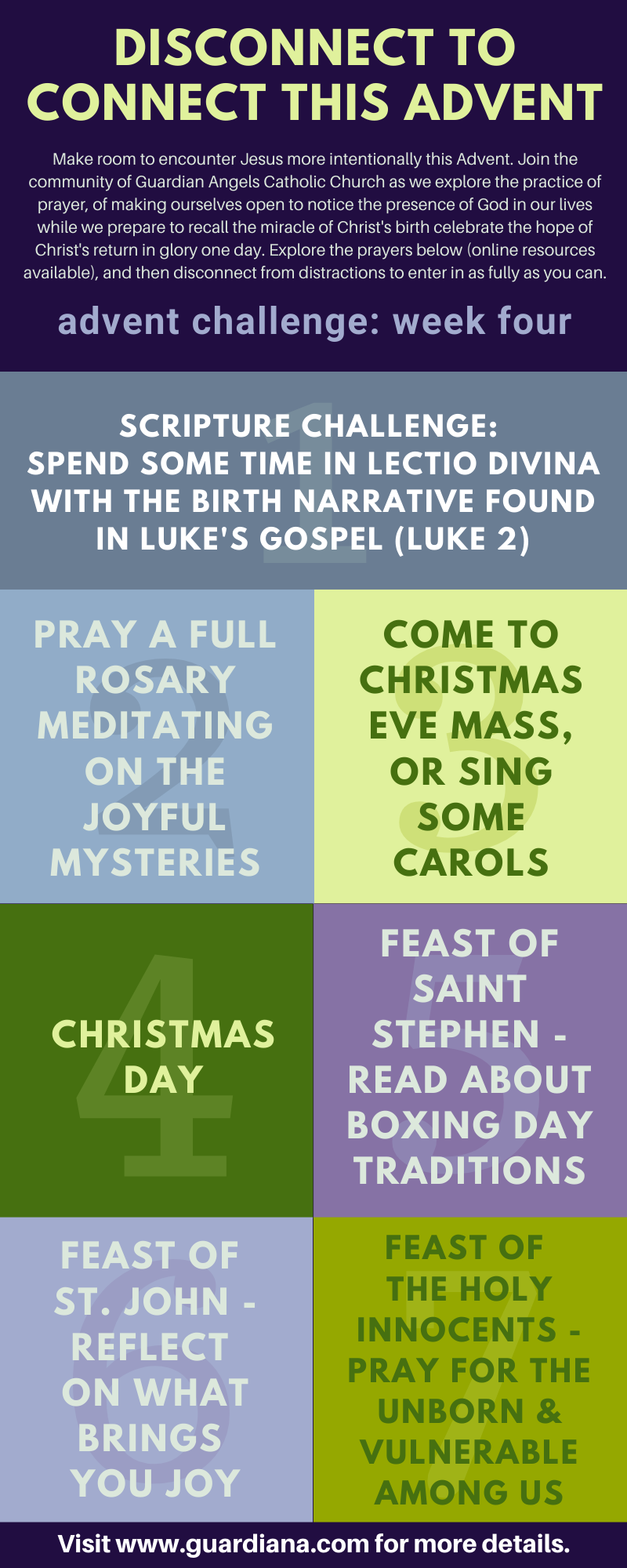 SCRIPTURE CHALLENGE
Spend some time in Lectio Divina (divine reading) with the birth narrative in Luke's Gospel. Here is a short description of how to move through the steps of Lectio Divina:
Place yourself in a quiet environment. Calm your anxieties and thoughts, and acknowledge God's presence. Offer a prayer to the Holy Spirit for inspiration and guidance: Come, Holy Spirit, enlighten my heart and mind to listen to your Word.
Lectio: Read the text slowly and prayerfully, constantly listening for that word that God has prepared for you. You may want to re-read the same text multiple times to help quiet yourself and focus on God's voice. Listen and receive the Word that God speaks to you.
Meditatio: When a word or phrase strikes you, stop and rest with it. Repeat the word or phrase to yourself. Allow it to speak to you in a personal way by pondering the word in your heart, reflecting on what it means to you. Memorize it and repeat it to yourself, allowing it to interact with your thoughts, hopes, memories, and desires.
Oratio: Prayer is your response to God's word. It begins your dialogue with God that comes from your heart. Formulate a prayer, as a response to God. What do you want to say to the Lord in response to the Word spoken to you? Enter into this loving conversation with God.
Contemplatio: Rest in God's presence and receive His transforming embrace. Sit still with God, realizing that in this deep and profound relationship, words are not necessary. Be content and at peace with a wordless, quiet rest in God, which brings joy to the heart. Remember that contemplation is not your action or doing, rather it is allowing God to act in you.

PRAY A FULL ROSARY MEDITATING ON THE JOYFUL MYSTERIES 
Joyful Mysteries: The Annunciation | The Visitation | The Nativity | The Presentation in the Temple | The Finding in the Temple
Rosary Guide available here: http://www.usccb.org/prayer-and-worship/prayers-and-devotions/rosaries/how-to-pray-the-rosary.cfm

IF YOU ARE NOT ATTENDING MASS ON CHRISTMAS EVE, SPEND SOME TIME SINGING CAROLS.
Here are some of our favorites:
Father Tony: Silent Night
Steve Petty: Silent Night/Night of Silence
John David Kuhar: O Come All Ye Faithful
Rakhi McCormick: O Holy Night
Lauren Perry: Little Drummer Boy (Bing Crosby & David Bowie)
Cheryl Kondrat: All of them! I can't choose!
Jeana Elmore: Adeste Fidelis
Stephen Turk: O Holy Night (Nat King Cole version!)
Trisha Ortisi: Home for the Holidays 
(OR YOU COULD WATCH A CHARLIE BROWN CHRISTMAS WITH THE FAMILY TOO!)
And there were in the same country shepherds abiding in the field, keeping watch over their flock by night. And, lo, the angel of the Lord came upon them, and the glory of the Lord shone round about them: and they were sore afraid. And the angel said unto them, Fear not: for, behold, I bring you good tidings of great joy, which shall be to all people. For unto you is born this day in the city of David a Savior, which is Christ the Lord. And this [shall be] a sign unto you; Ye shall find the babe wrapped in swaddling clothes, lying in a manger. And suddenly there was with the angel a multitude of the heavenly host praising God, and saying, Glory to God in the highest, and on earth peace, good will toward men.
"That's what Christmas is all about, Charlie Brown."