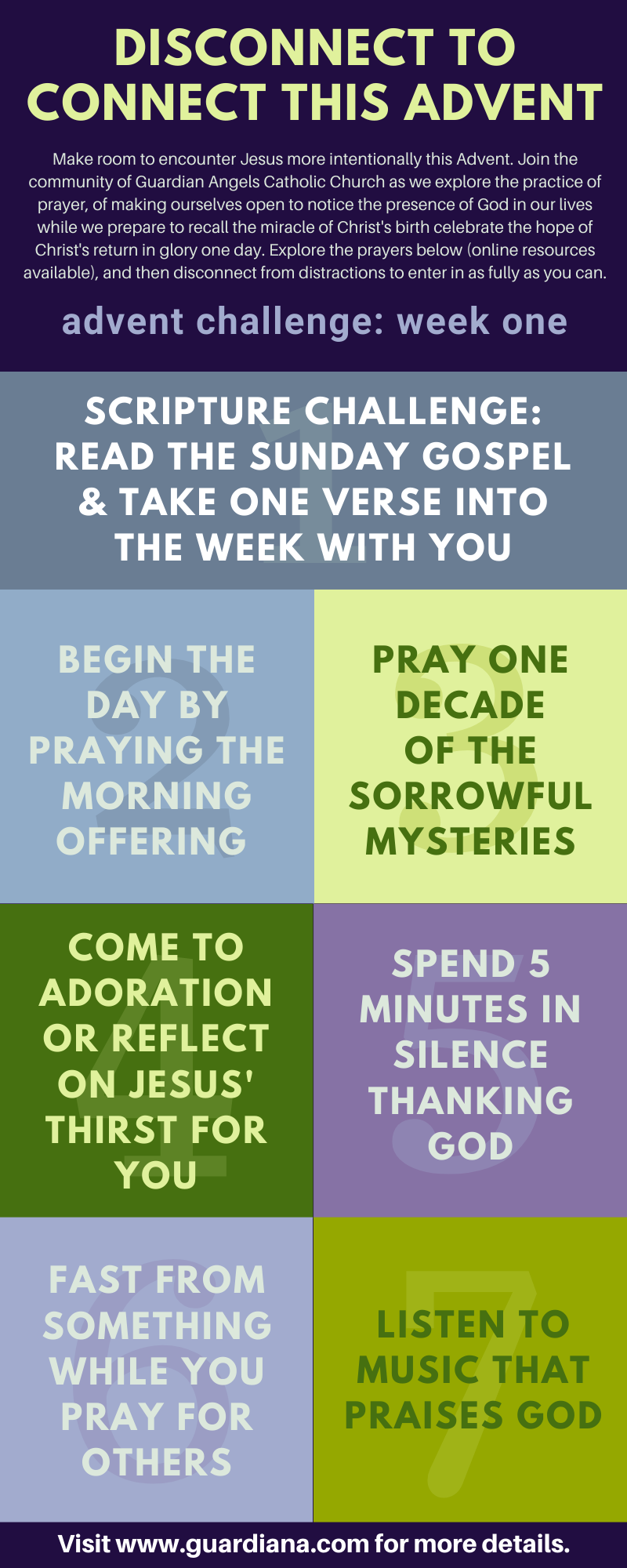 SCRIPTURE CHALLENGE
Read the Sunday Gospel slowly. Find one verse that speak to your heart and carry that into the week with you. Write it down somewhere you will see it daily.

BEGIN YOUR DAY WITH A MORNING OFFERING PRAYER:
O Jesus, through the Immaculate Heart of Mary, I offer you my prayers, works, joys, and sufferings of this day for all the intentions of your Sacred Heart, in union with the Holy Sacrifice of the Mass throughout the world, for the salvation of souls, the reparation of sins, the reunion of all Christians, and in particular for the intentions of the Holy Father this month. Amen.

PRAY A DECADE OF THE ROSARY MEDITATING ON ONE OF THE SORROWFUL MYSTERIES (OR A FULL ROSARY!)
Sorrowful Mysteries: Agony in the Garden | Scourging at the Pillar | Crowning with Thorns | Jesus Carries His Cross | The Crucifixion
Rosary Guide available here: http://www.usccb.org/prayer-and-worship/prayers-and-devotions/rosaries/how-to-pray-the-rosary.cfm

SPEND TIME IN EUCHARISTIC ADORATION AND/OR READ THE FOLLOWING REFLECTION TO SEE HOW JESUS ADORES YOU
My Dearest Children—Sisters, Brothers, and Fathers,
This letter being very personal, I wanted to write in my own hand—by there are so many things to say. Even if not in Mother's hand, still it comes from Mother's heart. Jesus wants me to tell you again, especially in this Holy Week, how much love He has for each one of you—beyond all you can imagine. I worry some of you still have not really met Jesus—one to one—you and Jesus alone. We may spend time in chapel—but have you seen with the eyes of your soul how He looks at you with love? Do you really know the living Jesus—not from books but from being with Him in your heart? Have you heard the loving words He speaks to you? Ask for the grace, He is longing to give it. Until you can hear Jesus in the silence of your own heart, you will not be able to hear Him saying "I thirst" in the hearts of the poor. Never give up this daily intimate contact with Jesus as the real living person—not just the idea. How can we last even one day without hearing Jesus say "I love you"—impossible. 
Our soul needs that as much as the body needs to breathe the air. If not, prayer is dead—meditation-only thinking. Jesus wants you each to hear Him—speaking in the silence of your heart. Be careful of all that can block that personal contact with the living Jesus. The devil may try to use the hurts of life, and sometimes our own mistakes—to make you feel it is impossible that Jesus really loves you, is really cleaving to you. This is a danger for all of us. And so sad, because it is completely opposite of what Jesus is really wanting, waiting to tell you. Not only that He loves you, but even more—He longs for you. He misses you when you don't come close. He thirsts for you. He loves you always, even when you don't feel worthy. When not accepted by others, even by yourself sometimes—He is the one who always accepts you. My children, you don't have to be different for Jesus to love you.
Only believe—You are precious to Him. Bring all you are suffering to His feet—only open your heart to be loved by Him as your are. He will do the rest. You all know in your mind that Jesus loves you—but in this letter Mother wants to touch your heart instead. Jesus wants to stir up our hearts, so not to lose our early love, especially in the future after Mother leaves you. That is why I ask you to read this letter before the Blessed Sacrament, the same place it was written, so Jesus himself can speak to you each one.


SPEND 5-10 MINUTES IN SILENCE THANKING GOD
"Gratitude is the first sign of a thinking rational creature." -Blessed Solanus Casey

FAST FROM SOMETHING WHILE YOU PRAY FOR OTHERS
Ever heard someone say "Offer it up?" Today's your chance! On Fridays, we unite ourselves with Christ's sacrifice on the cross and offer our own suffering for the good of others. We die to self—deny ourselves—and offer up that inconvenience as a prayer to Jesus.

LISTEN TO MUSIC THAT PRAISES GOD
Do you have a favorite hymn? A praise song that fixes your eyes on Jesus? Listen to it today and offer it as a prayer of encounter.