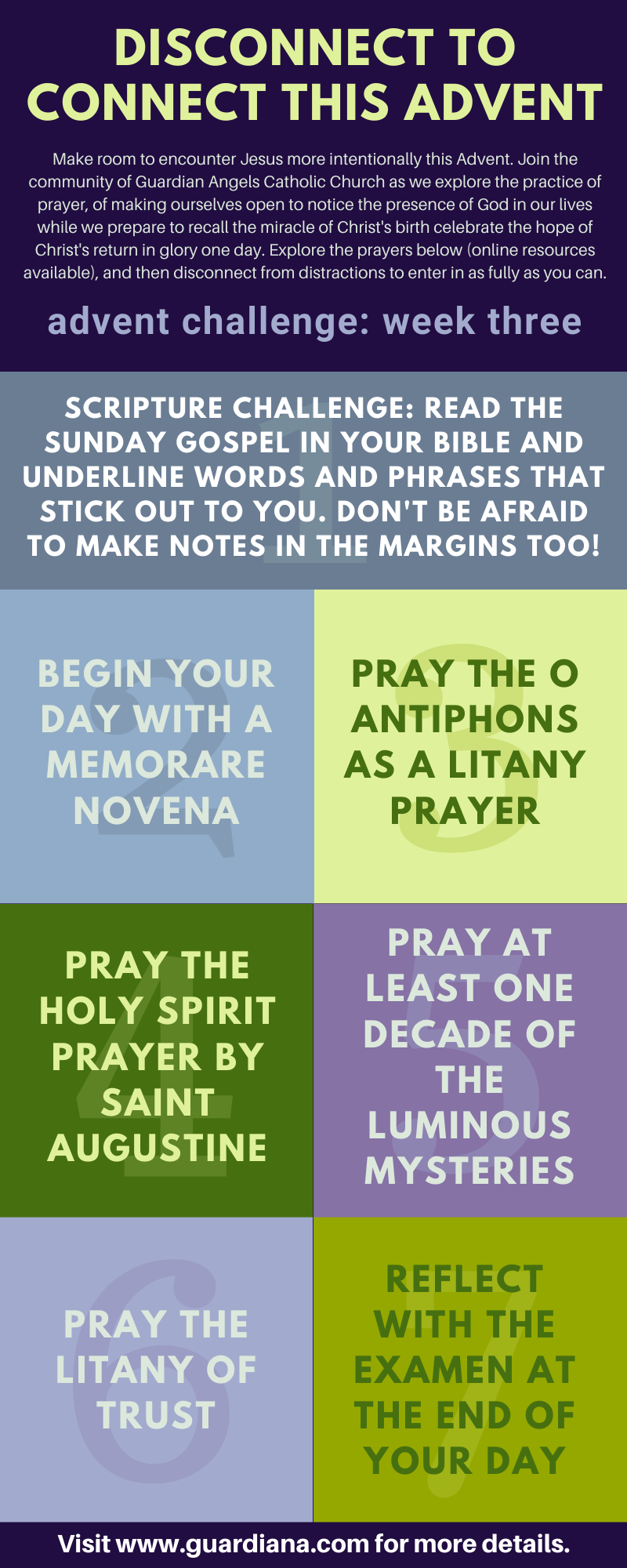 SCRIPTURE CHALLENGE
Read the Sunday Gospel slowly. Place yourself in the scene and reflect on the images and feelings that arise. What words catch your attention? What sights and smells do you imagine?

BEGIN YOUR DAY WITH A MEMORARE NOVENA
St. Teresa of Calcutta was often known to pray this novena of Memorares (sometimes called a Flying Novena) for immediate and serious prayer requests. Simply say nine Memorares in a row, and add a tenth in Thanksgiving for an answered prayer. The Memorare:
Remember, O most gracious Virgin Mary, that never was it known that anyone who fled to thy protection, implored thy help, or sought thine intercession was left unaided.
Inspired by this confidence, I fly unto thee, O Virgin of virgins, my mother; to thee do I come, before thee I stand, sinful and sorrowful. O Mother of the Word Incarnate, despise not my petitions, but in thy mercy hear and answer me.  Amen.

PRAY THE O ANTIPHONS
O Antiphons are an ancient tradition of the Church. They are seven responses, or antiphons, sung or recited to introduce the canticle of Mary (the Magnificat) at evening prayer from December 17-23. These antiphons are based on Isaiah's prophecies and refer to the different ancient titles given to the Messiah:
1) O Sapientia (O Wisdom) See Isaiah 11:2–3; 28:29
2) O Adonai (O Lord) See Isaiah 11:4–5; 33:22
3) O Radix Jesse (O Root of Jesse) See Isaiah 1:1; 11:10
4) O Clavis David (O Key of David) See Isaiah 9:6; 22:22
5) O Oriens (O Rising Sun) See Isaiah 9:1
6) O Rex Gentium (O King of the Nations) See Isaiah 9:5; 2:4
7) O Emmanuel (God with us) See Isaiah 7:14
December 17
O Wisdom of our God Most High,
guiding creation with power and love:
come to teach us the path of knowledge!
December 18
O Leader of the House of Israel,
giver of the Law to Moses on Sinai:
come to rescue us with your mighty power!
December 19
O Root of Jesse's stem,
sign of God's love for all his people:
come to save us without delay!
December 20
O Key of David,
opening the gates of God's eternal Kingdom:
come and free the prisoners of darkness!
December 21
O Radiant Dawn,
splendor of eternal light, sun of justice:
come and shine on those who dwell in darkness and in the shadow of death.
December 22
O King of all nations and keystone of the Church:
come and save man, whom you formed from the dust!
December 23
O Emmanuel, our King and Giver of Law:
come to save us, Lord our God!
(You may recognize these from the verses of O Come, O Come Emmanuel!)

PRAY THE HOLY SPIRIT PRAYER ATTRIBUTED TO SAINT AUGUSTINE
Breathe in me, O Holy Spirit, that my thoughts may all be holy.
Act in me, O Holy Spirit, that my work, too, may be holy.
Draw my heart, O Holy Spirit, that I love but what is holy.
Strengthen me, O Holy Spirit, to defend all that is holy.
Guard me, then, O Holy Spirit, that I always may be holy. Amen.

PRAY A DECADE OF THE ROSARY (OR A FULL ONE) MEDITATING ON ONE OF THE LUMINOUS MYSTERIES 
Luminous Mysteries: The Baptism of Jesus in the Jordan | The Wedding Feast at Cana | The Proclamation of the Kingdom | The Transfiguration | The Institution of the Eucharist
Rosary Guide available here: http://www.usccb.org/prayer-and-worship/prayers-and-devotions/rosaries/how-to-pray-the-rosary.cfm

PRAY THE LITANY OF TRUST
From the belief that I have to earn Your love … Deliver me, Jesus.
From the fear that I am unlovable … Deliver me, Jesus.
From the false security that I have what it takes … Deliver me, Jesus.
From the fear that trusting You will leave me destitute … Deliver me, Jesus.
From all suspicion of Your words and promises … Deliver me, Jesus.
From the rebellion against childlike dependency on You … Deliver me, Jesus.
From refusals and reluctances in accepting Your will … Deliver me, Jesus.
From anxiety about the future … Deliver me, Jesus.
From resentment or excessive preoccupation with the past … Deliver me, Jesus.
From restless self-seeking in the present moment … Deliver me, Jesus.
From disbelief in Your love and presence … Deliver me, Jesus.
From the fear of being asked to give more than I have … Deliver me, Jesus.
From the belief that my life has no meaning or worth … Deliver me, Jesus.
From the fear of what love demands … Deliver me, Jesus.
From discouragement … Deliver me, Jesus.
That You are continually holding me, sustaining me, loving me …
Jesus, I trust in you. (repeat after each line)
That Your love goes deeper than my sins and failings, and transforms me …
That not knowing what tomorrow brings is an invitation to lean on You …
That You are with me in my suffering …
That my suffering, united to Your own, will bear fruit in this life and the next …
That You will not leave me orphan, that You are present in Your Church…
That Your plan is better than anything else …
That You always hear me, and in Your goodness always respond to me …
That You give me the grace to accept forgiveness and to forgive others …
That You give me all the strength I need for what is asked …
That my life is a gift …
That You will teach me to trust You …
That You are my Lord and my God …
That I am Your beloved one … Jesus, I trust in you.  Amen.

REFLECT WITH THE EXAMEN AT THE END OF YOUR DAY
St. Ignatius Loyola's Examen is an opportunity for peaceful daily reflective prayer. It invites us to find the movement of God in all the people and events of our day. The Examen is simply a set of introspective prompts for you to follow or adapt to your own character and spirit. Begin with a pause and a slow, deep breath or two; become aware that you are in the presence of the Holy.
Thanksgiving
What am I especially grateful for in the past day?
Petition
I am about to review my day; I ask for the light to know God and to know myself as God sees me.
Review
Where have I felt true joy today?
What has troubled me today?
What has challenged me today?
Where and when did I pause today?
Have I noticed God's presence in any of this?
Response
In light of my review, what is my response to the God of my life?
A Look Ahead
As I look ahead, what comes to mind?
With what spirit do I want to enter tomorrow?