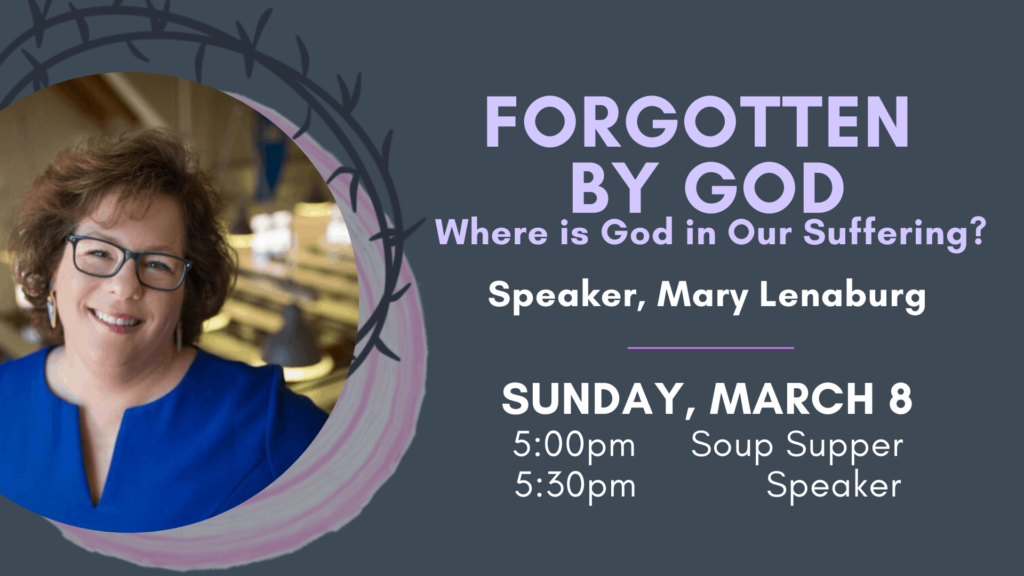 Our  3-part Lenten Mission begins on Sunday, March 8th with speaker, Mary Lenaburg – an author, speaker, wife and mother – sharing her witness and testimony about God's redeeming love. Join us as Mary tells the story of her journey to a greater trust in God and hope amid desolation during the most difficult days of her life.
Mary grew up in a large Catholic family with 6 brothers and a sister and had her own football helmet in the 3rd grade. She always wanted to be a wife and mother, and pictured her children in the perfect Catholic plaid uniform. Upon meeting her husband on her first and only blind date, she was confident she was on her way.
But God had a different plan. She gave birth to her son Jonathan in 1989 and her daughter Courtney arrived August 1992. On September 27, 1992, while being baptized, Courtney had the first of many grand-mal seizures. Going from the church to the emergency room, Mary's world changed forever.
There is no such thing as a perfect life. For the next twenty-two years Mary and her family took a spiritual journey that led them to Lourdes, France, numerous hospitals and specialists with their daughter, and finally to home-based hospice. Courtney took her last breath this side of heaven on December 27, 2014, the feast of St. John the Beloved, while in her mother's arms. She is now her parents' and big brother's most powerful intercessor.
Mary's first book, Be Brave in the Scared, is available wherever books are sold. You can also connect with her on Instagram at @marylenaburg and on Facebook  at @marylenaburgwriter.
We hope you'll join us for this first installment of our Lenten Mission!
Our Parish Mission is sponsored in part by the Alliance Catholic Credit Union.