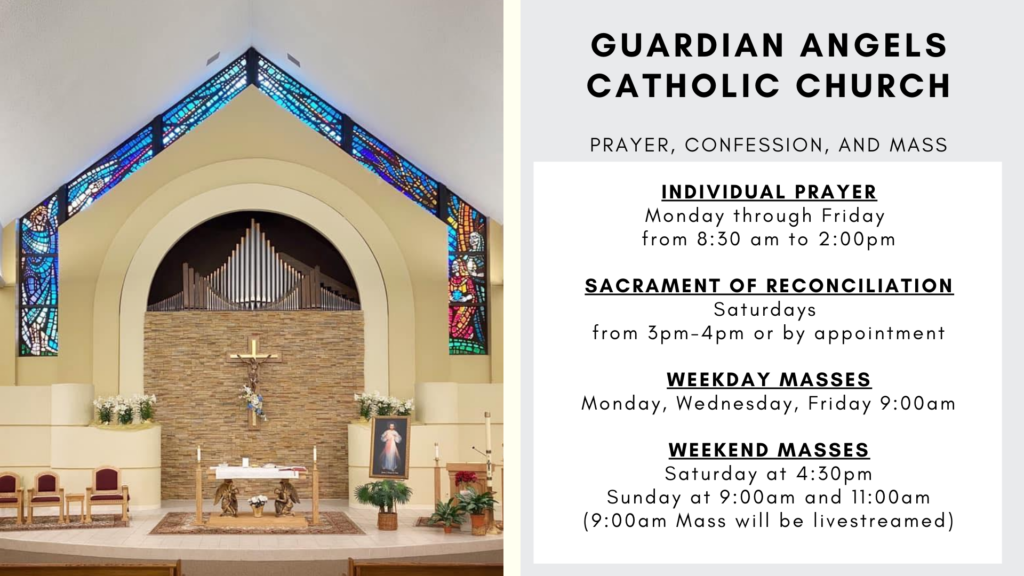 We have now received guidelines and permission from the Archdiocese to begin celebrating Mass publicly as a community. We give thanks to God for this blessing and look forward to seeing everyone again in Church! However, we must also prepare ourselves for the reality that our return will look much different than what we have known in the past, and we will have a number of guidelines and standards to which you must adhere.
Please note that those older than 65 years of age, anyone with compromised health conditions, or those caring for the sick in any way are encouraged to stay home for their safety and the well-being of our parish community as a whole. Anyone exhibiting any signs of illness are being asked to stay home as well. The Sunday Mass obligation is dispensed through at least September 6, 2020.
The Sunday 9:00am Mass will be livestreamed for the larger community on our Facebook page and our website.
To visit the parish for private prayer and confession, we ask that you abide by the following guidelines:
Facemasks are to be worn by everyone over the age of 2.
Please keep at least 6 feet of distance between you and anyone not in your immediate household.
If you are here for private prayer, please sit in the pews marked with green tape only.
If you are here for confession, please line up according to the markings on the floor.
As we begin to resume public of the Masses, please note that due to the limited number of seats available, we will be having a sign up for our weekend Masses. This will take place through Eventbrite. 
PROCEDURES & GUIDELINES FOR SUNDAY MASS AT GUARDIAN ANGELS
The "tickets" for Mass will go live on the Monday prior to the weekend. Reservations will be on a first come, first serve basis. If you do not have access to the link you may call the parish starting Monday mornings to reserve a space. You can also have a friend or family member reserve a spot via the link for you if you would like.
Everyone is required to wear a mask or face shield (please bring your own).
We are limited in our capacity in order to practice social distancing and there will be specific spaces and pews for the congregation to sit. Please follow the directions you will receive when you check in. 
We have also been asked to refrain from singing, and holding hands during the Our Father and the sign of peace will be omitted.
The distribution of Communion will only take place in the form of the host and the Communion lines will be slightly altered. Directives will be given at Mass.
The health and safety of all of our parish family is our first priority as we return. In order to help care for one another, we will be cleaning and disinfecting after each Mass. It is important that everyone does their part and abides by the directives set forth. Please be patient with us and one another as we all navigate these changes together.
Guardian Angels Safety Policies/Procedures Re: COVID-19


(Per directives from the Archdiocese of Detroit)
Everyone is required to wear a mask or face shield inside the church building. Please bring your own. (This does not apply to children under age 2.)
Please respect social distancing of 6 feet.  The social distancing policy is not limited to interaction inside the church, but should also be observed as you enter and leave the building. (This policy does not apply for those living in the same household).
Please follow seating directives when you arrive.  
We ask families with small children to keep children close to you.
Please use hand sanitizer as common sense dictates.