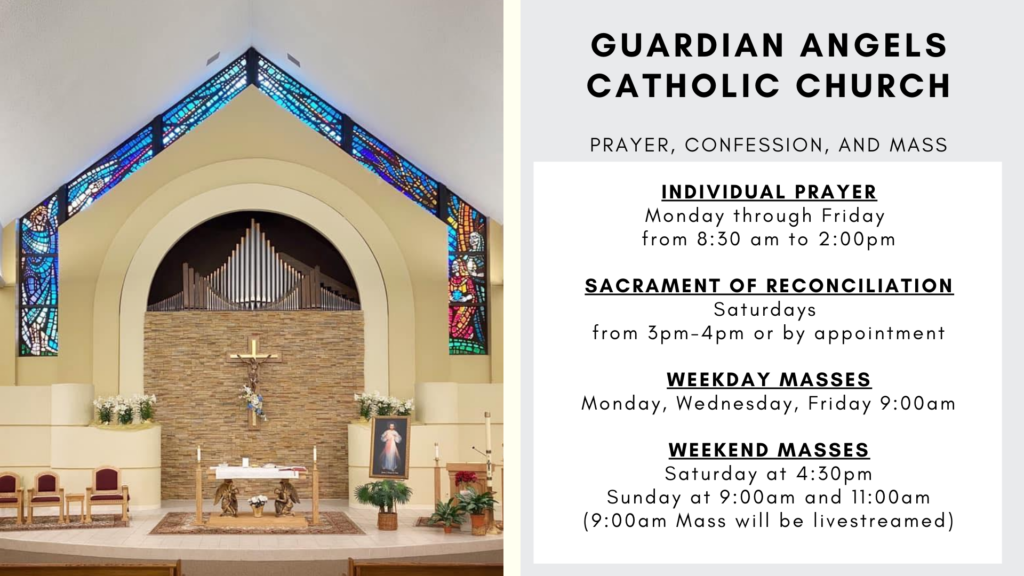 We have received new guidelines as we continue to celebrate Mass publicly as a community.
GUIDELINES FOR PARISH VISITS & MASS ATTENDANCE
We have just received updated guidelines from the Archdiocese of Detroit regarding our pandemic response protocols. As such, here are the changes taking effect as of May 22nd.
Per the AOD:
1. Those who are fully vaccinated may wear a face-covering and social distance but are no longer required to do so in church.
2. Those who have not been fully vaccinated are to continue wearing face-coverings and to practice social distancing to protect themselves and others in churches. Because a parish community – and our society – requires mutual trust and a commitment to the common good, each individual is asked to make the best decisions for himself as well as for others. (We will not verify who is and who is not vaccinated. We trust that you will make the best decision out of love of neighbor.)
3. Each parish is to provide a portion of the church where social distancing and face-coverings are consistently maintained. During Masses at Guardian Angels, we will be maintaining face-coverings and social distancing in the pews on the tabernacle side of the church (from the baptismal font section to the chapel). Those who are vaccinated and comfortable without face-coverings and social distancing may sit on the other side of the church from the center aisle to the choir area. There will be new signs to help direct you.
Again, we know our generous community will continue to show love, respect, and patience to all those who are trying to navigate this as best they can.
To read the full statement from the Archdiocese, including moral guidance on the Covid-19 vaccines, visit https://www.aod.org/emergencyresponse
We will, of course, be continuing to livestream our weekend Mass for all who are unable to join us in person.
PARTICULAR DISPENSATIONS:
While the general dispensation from the Sunday Mass expired in March 2021, the Archbishop has issued particular dispensations for specific circumstances and demographics. They are as follows:
One does not have an obligation to attend Mass on Sunday in the following circumstances:

You are ill or your health condition would be significantly compromised if you were to contract a communicable illness (i.e., you have underlying conditions or are in a high-risk category). Please use the dispensation and do not attend Mass.
You exhibit flu-like symptoms. Please use the dispensation and do not attend Mass.
You have good reason to think you might be asymptomatic of a contagious illness (e.g., you were in recent contact with someone who tested positive for a contagious illness such as COVID or influenza). Please use the dispensation and do not attend Mass.
You care for the sick, homebound, or infirmed.
You are pregnant.
Those 65 years of age or older (per the CDC's recommendation of high-risk individuals).
You cannot attend Mass through no fault of your own (e.g., no Mass is offered, you are infirmed, or, while wanting to go, you are prevented for some reason you cannot control (e.g., your ride did not show up, the church was at capacity).
You have significant fear or anxiety of becoming ill by being at Mass.
The Sunday 9:00am Mass will continue to be livestreamed for the larger community on our Facebook page and our website.