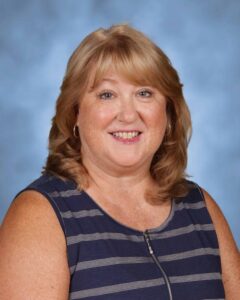 Cheryl Kondrat
While growing up in Hamtramck and attending St. Florian Elementary and High School, Cheryl learned of her love for Jesus. It was also there that she met the love of her life, Thomas. They were married at St. Florian Church in 1984. Cheryl continued her studies at Central Michigan University and Wayne State University.
Cheryl and Tom moved to Clawson in 1989 and joined Guardian Angels Catholic Community. They were blessed with two wonderful daughters who attended Guardian Angels and Bishop Foley Catholic Schools. Cheryl has been a catechist for Faith Formation and is currently a sacristan.
Cheryl enjoys spending time with her family and friends, going out to dinner and is an avid Detroit Tigers Fan.
Cheryl is an Administrative Assistant for the Parish as well as part of the Guardian Angels Catholic School staff.