Thank You for Your Ongoing Support!
Our Annual State of the Parish information for the 2017-2018 fiscal year can be found below.  Thanks to your generosity, we are in good shape from a financial perspective.
Thank you for your generous donations to replace our boiler system.  The replacement of the boiler was completed recently, and we should be set for the upcoming winter season.
Thank you, also, for your support of the various fundraisers we held for our school.  Your generosity allowed the school to complete several improvement projects.
We have recently made necessary repairs to the parking lot.  This is an interim step.  Next summer we plan to replace the parking lot in its entirety after fundraising for the project.
Thank you for your willingness to share your gifts and talents with our community through our stewardship ministries, our worship ministries, our education ministries and the various Christian Service activities that take place here at Guardian Angels Catholic Church.  We are truly blessed to have so many gifted and talented parishioners.
Thanks to the many that have been able to meet with me this fall.  After close to 70 meetings with parishioners, some similar patterns and themes have evolved.  From my notes, every parishioner who came in spoke positively about the parish and the parishioners.  Listed below, not in any special order, are some of the major findings that have been developing:
The need for a Welcome Committee for new parishioners
The parking lot needs to be fixed (this was the most mentioned topic)
Reaching out to young adults (20-40 year olds)
School concerns regarding Guardian Angels Grade School and Bishop Foley High School.  The schools need more connection to the church and each other.
Stability and healing of the parish
More focus on the needs of teens
Focus on adult faith formation
Overall parish finances
Focus on the needs of seniors
Need for younger families to take on leadership roles
Please be reassured that Guardian Angels Parish is perceived as a welcoming community that many described like a family to them.  The worship and music inspire people in their faith.  We have a community that reaches out to the needy and a generous SVDP society. There were other items but the above seemed to be the most common.  We are already addressing some of these concerns and will continue.  I will be continuing to meet with people and listening.
Our parish is strong in faith, generous in giving, and the future looks so bright that as one parishioner said, "We will need to wear shades."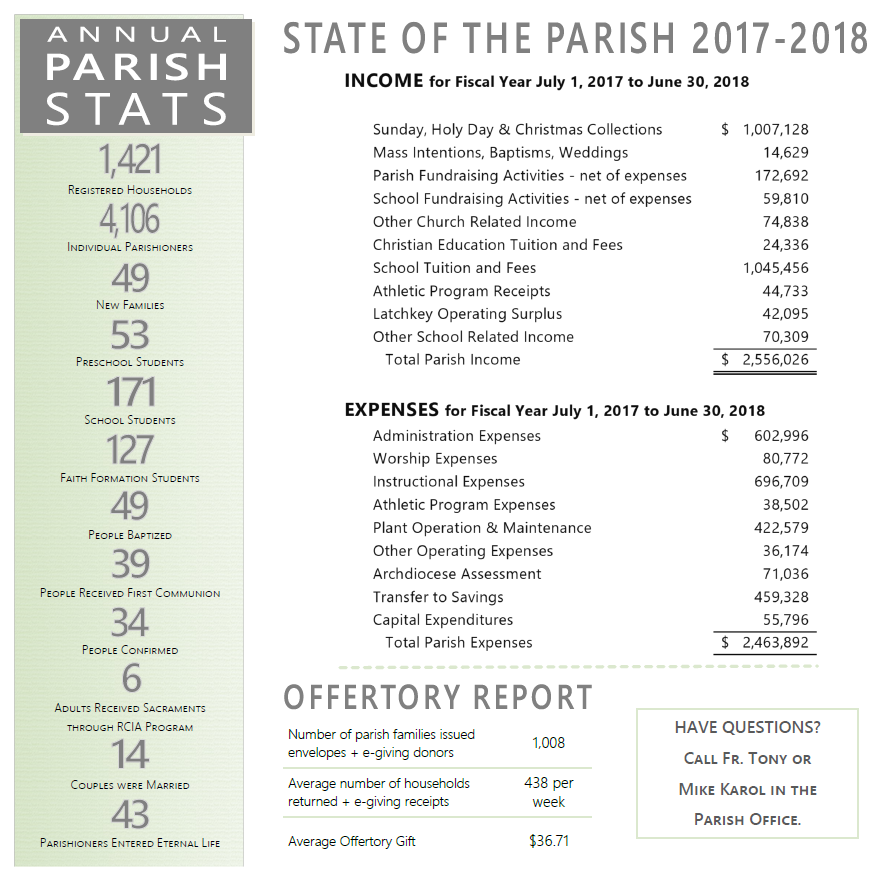 ---
Fr. Tony's Findings
Below, you will find the major findings from the "one-on-one" meetings that took place over several months.  Thanks for your input!  There were over 80 meetings that brought about focus areas.  Parishioners identified focus areas, action steps then were created, and implementation of the action steps and/or further follow-up along with dates were established.  This document is a working document that will help Guardian Angels Parish into the future.  If you have questions, or would like to sit down with me, please call to set up a time.